Integument Technologies
Fluoropolymer Peel and Stick Films and Coatings
Engineered FluoroGrip® films for your most challenging coating needs
Learn More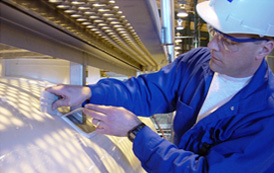 Superior protection against the harshest chemical and temperature conditions for industrial and chemical processing environments with little to no surface preparation, VOC exposure, or cure time in a single step application.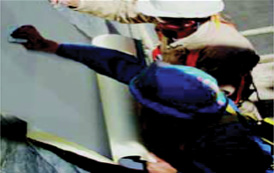 PTFE film combined with a butyl pressure sensitive adhesive system provide a flexible chemical and temperature resistant barrier which protects concrete substrates against chemical attack for a wide range of service applications such as secondary containment, acid brick, expansion joints and trenches.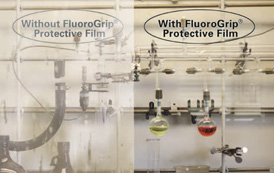 FEP (Tefllon®) film is combined with an optically clear pressure sensitive adhesive that bonds permanently to glass, acrylic, and polycarbonate substrates to protect against harsh chemicals in manufacturing and chemical processing environments.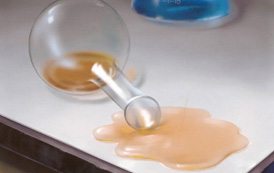 Provides for protection from splash and spill events in a variety of industrial environments. Prevents corrosive and high temperature attack in applications where other conventional paint and film products fail or are environmentally hazardous.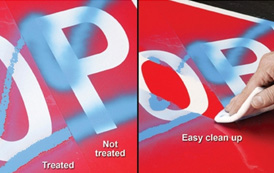 DOT approved FEP Teflon® film combined with an optically clear pressure sensitive adhesive allows for peel and stick application for protection against graffiti or chemical attack for signage while retaining non-stick properties for a wide range of commercial and industrial applications.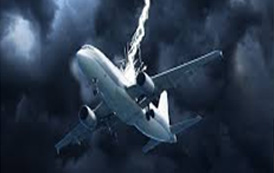 Light weight, high-performance lightning strike applique films provide a sacrificial layer in contrast to conventional embedded metallic foil composite materials used for structures susceptible to lightning strike such as aircraft and wind turbines.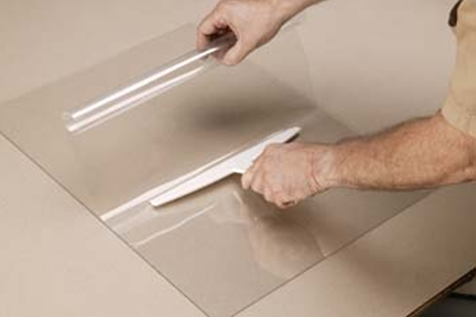 The Peel and Stick Advantage
Our FluoroGrip® product coating line offers the highest chemical resistance and temperature solution for your corrosion needs with easier and safer installation over traditional coatings at a lower lifetime cost. FluoroGrip® is available in a variety of fluoropolymers combined with pressure sensitive adhesives that are tailored to suit any coating requirements.
The Science of FluoroGrip®
Integument's proprietary cold gas plasma surface modification is the science that makes it possible to apply adhesives and coatings that bond permanently to surfaces of any fluoropolymer film.