FluoroGrip® Optically Clear Protective Film Coatings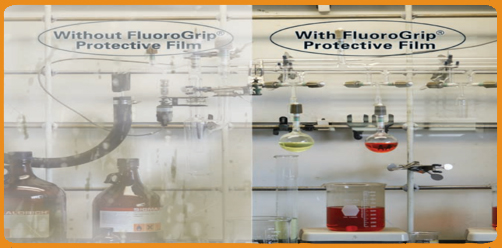 FluoroGrip® Teflon® films provide superior resistance to a wide range of corrosive chemicals and withstand the high temperatures found in harsh processing environments while remaining optically clear. FluoroGrip® optically clear films offer an excellent, cost-effective alternative to thicker sheets currently used to protect standard polycarbonate glass and other substrates from chemical etching.
Advantages
Outstanding weatherability and optical properties
Excellent performance in outdoor atmospheric environments
Superior chemical resistance for harsh chemical environments
Permanently UV stable
Withstands thermal shock and cycling
Easy to clean, inspect and repair
Typical Applications and Use
Lab Equipment, fume hoods, and glove boxes
Critical clean and etch
Chemical Processing
Post-ash clean/Photoresist strip
Cleanroom- walls and windows
General Industrial applications
Easy to install for enhanced maintenance procedures
FluoroGrip® optically clear Teflon ® films offer peel and stick installation and can be easily applied by hand or standard lamination equipment over polycarbonate glass and other surfaces.
Films are easily cut to match the size and shape of the desired surface area
Does not require primers or hazardous solvents,
the solid sheet design assures consistent coverage, even on edges, angles and corners
Its fluoropolymer composition makes cleaning fast and easy
Can be furnished pre-applied to polycarbonate sheets or in ready-to-apply rolls.