Concrete Protective Film Coatings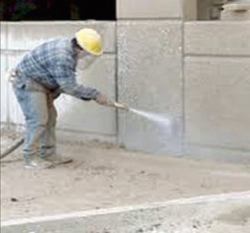 Concrete Surface Preparation
NACE No. 6/SSPC-SP 13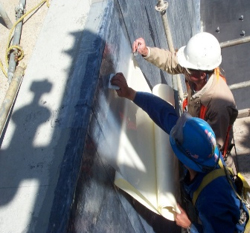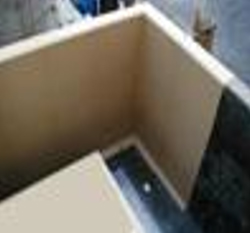 FluoroGrip® fluoropolymer films combined with a butyl pressure sensitive adhesive provide a flexible chemical and temperature resistant barrier that protects new or existing concrete substrates against chemical attack for a wide range of service applications. FluoroGrip® Mx- Membrane coatings combine the dual advantages of a fluoropolymer film and a 30 mil butyl pressure sensitive adhesive that permanently bonds to concrete substrates with minimal surface preparation.
This coating system maintains a high tensile strength and flexural modulus with elongation up to 300% to allow for movement of the underlying concrete. FluoroGrip® Mx- Membrane provides superior chemical and permeation resistance over traditional paints and conventional coatings such as epoxies, urethanes, and vinyl esters.
Advantages
Corrosion protection against the most severe chemicals to provide extended service life of the underlying concrete
Superior chemical, temperature and permeation resistance over traditional paints and conventional coatings
Top coats and/or aggregate can be applied for traffic areas
Minimal surface preparation required, easy to install
Environmentally friendly with no VOC's for reduced downtime and no cure time
May be applied over a traditional paint system in areas where extra protection may be required or if the underlying coating has failed
Typical Applications and Uses
Chemical processing plant exposure areas
Secondary containment areas
Trenches, pits, and sumps
Acid Brick Installations
Concrete Loading pads
Stacks, reactors, and scrubbers
Pipe and crack
Expansion joints
Waste water or other industrial containment areas
Pulp and paper mills
FluoroGrip® Concrete Mx Membrane Film Coating Lay-Up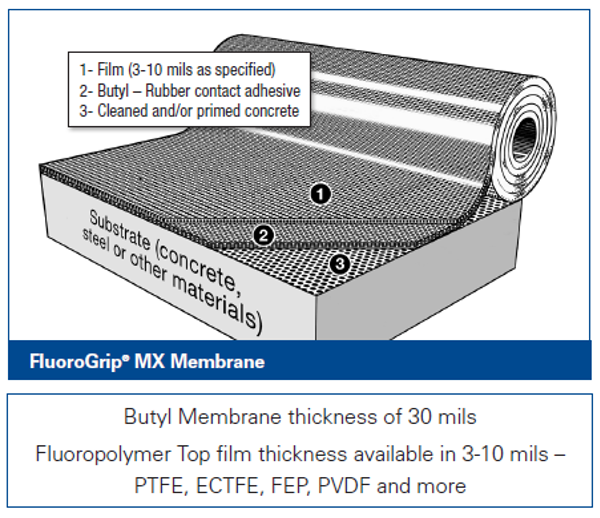 Easy to install for enhanced maintenance procedures
FluoroGrip ® films offer superior adhesive technology for easy, peel-and-stick installation by existing maintenance crews. Its solid sheet design assures consistent coverage, even on edges and corners and systems are engineered for ease of inspection and maintenance. The films are ideal for use in new construction or ongoing maintenance programs. Top coats can be applied with aggregate for traffic areas as well.
Peel and Stick application with little minimal surface preparation
Films are easily cut to match the size and shape of the desired surface area.
Reduced labor, installation costs and downtime
Films are available in 48″ by 50′ long rolls