Pipe Wrap Protective Film Coatings
FluoroGrip® pipe wraps and tapes upgrade existing materials to provide maximum protection to 500°F in the worst chemical environments. Dual laminate fiberglass piping (see picture) was wrapped to provide exterior protection in a hot chlorine/ caustic environment. Wraps can also be used to protect piping against abrasion from support structures.
More information can be found in the complimentary PDF below: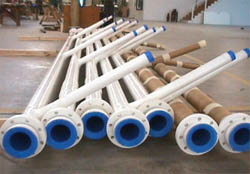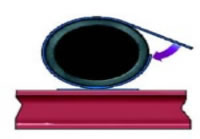 An easy-to-install protective system for pipe and pipe support applications.
FluoroGrip ® Fluoropolymer Pipe Wrap offers easy-to-install mechanical protection to help prevent damage such as scrapes and corrosion caused by pipe expansion and contraction. Providing excellent resistance to chemicals, abrasion, and other aggressive conditions, FluoroGrip® Pipe Wrap provides protection in numerous applications in chemical plants, utilities and other industries.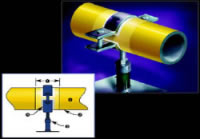 Bolt-On Split Pipe Shoe Support
See-through Fluorogrip® film provides protection between the bolt-on shoe support and the pipe. The film allows inspectors to easily verify the integrity of the underlying protective coating at each shoe location with a quick visual inspection. FluoroGrip® offers easy, peel-and-stick installation and superior reliability compared to other, more difficult to apply, opaque coatings and linings such as FRP.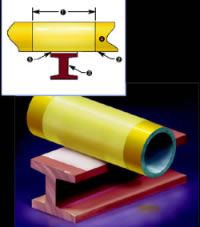 Pipe Side Plate Applications
See-through FluoroGrip® film provides similar protection in slide plate applications as shown in the illustration.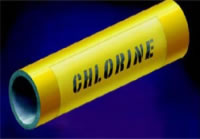 Pipe Decal Protection
See-through FluoroGrip® film protects pipe decals such as required safety warnings and related graphics while maintaining readability.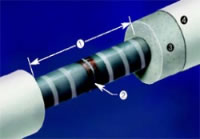 High Temperature Corrosion Protection Under Insulation
High temperature resistant FluoroGrip® film (to 500°F) combines superior protection and ease of installation under insulation and over new field welds. Ideal for protecting weld joints on metallized pipe.