Architectural Protective Film Coatings
FluoroGrip® fluoropolymer films and sheets are ideal materials for upgrading traditional architectural and construction materials that provide superior chemical, ultraviolet (UV) and temperature resistance. The superior performance properties of FluoroGrip® extend the use of traditional materials into environments demanding severe corrosives, high temperature, UV as well as high end applications.
Uses include ductwork, wall coverings for splash and spill areas, corrugated sheet goods, concrete and block surfaces, structural support members, and glass in corrosive environments.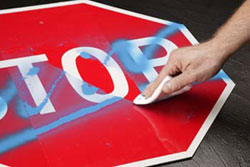 How FluoroGrip® Provides Protection Against Graffiti
FluoroGrip® film systems provide protection against graffiti on virtually any surface and are easy to use and install to protect signs, steel and concrete structures, equipment, glass and other surfaces in public places against paints, acids, dirt and grime.
FluoroGrip® UV-stable, Teflon® films offer a permanent alternative to conventionally etched films due to a patented plasma surface modification. The process creates a permanent, chemical covalent bond between the film and adhesive while retaining the full transparency of the film. The bond is permanent enabling it to be used in surface protection applications where currently available film products used may fail within 2 to 3 years.
The covalent bond withstands a wide variety of stresses such as extreme temperature cycling, UV rays, and a wide range of aggressive chemicals including acids. FluoroGrip® films help prevent surface damage caused by graffiti. Paint, ink, acids and grime are easier to clean from the non-stick fluoropolymer film surface while simultaneously providing anti-corrosion protection to the underlying substrate.
FluoroGrip® films provide superior adhesive technology for easy, peel and stick installation by existing maintenance crews. Its solid sheet design assures consistent coverage, even on edges and corners and systems are engineered for ease of inspection and maintenance. The films are ideal for use in new construction or ongoing maintenance programs.
FluoroGrip® films are applied in a single application process with minimal surface preparation compared to that for traditional spray-applied materials. Furthermore, FluoroGrip® films are safer with no VOCs or hazardous solvents, eliminating the need for solvent-related protective clothing and equipment. Labor and installation costs are also reduced as well as downtime and waste disposal costs.